Are you familiar with feed pellet mill and its installation and operation? Let's talk about this.

...
---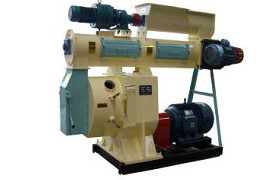 Are you familiar with feed pellet mill and its installation and operation?

First, feed pellet mill has stainless steel feeding spiral conveyor, tempering device and particle pressing chamber. It also has advanced and reliable overload protection device, frequency control device and high quality temperature sensor. Feed pellet mill is suitable for various animal feeds production.

Second, feed pellet mill installation:
Put feed pellet mill on the flat and soft floor so as to reduce vibration and noise.
Let's take GC-9PK200 pellet mill as the example:
We can fix the machine to a flat position with the pause lock. Besides, we can install the pause lock on the four wheels of the machine for easy movement and reliable operation.

Third, operation of feed pellet mill:
1)New machine running-in:
We can prepare 1.5-5kg of mixed mash feed, add 10% edible oil and stir even. Then we rub the oil chunk, add feed and start the feed pellet mill. After the machine running, we adjust the compression roller bolt with a wrench until the machine can discharge feed normally. When the feed with oil squeezes for 3-5 times in the machine, we can add dry material gradually.
2)Feed pellet length adjustment: we can adjust the pellet length by adjusting the cutter on the discharging port side.
3)Feed pellet storage: due to the high temperature of the pellet processed from the machine, we can put it in the ventilated place and cool it to the indoor temperature for packing and storage.

---